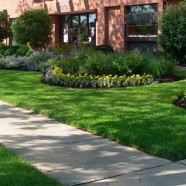 Cost-effective care without compromising quality
At UrbanScapes, we understand that you want your property to cultivate a look that has impact. After all, your place of business and its surroundings make a powerful statement about your business' commitment to quality and its success. We understand that you want professional, reliable work that will reflect that quality, without straining your budget. We will provide you with thorough and accurate needs assessments, with a view to creating short- and long-term solutions to your property's needs, while ensuring that your economic requirements are also met.
Whatever your short-term needs and long-term objectives, our expertise is at your service from start to finish and beyond.
Maintenance
Lawn care and turf maintenance
Pruning and garden bed care
Fertilizing and weed prevention
Shrub and tree care
Parking lot maintenance
Enhancements
Turf repair / replacement
Aerating/top dressing
Mulch
Planting of annuals
Seasonal displays
Tree and shrub planting
Snow Services
Clearing of sidewalks
Salting/de-icing
Plowing