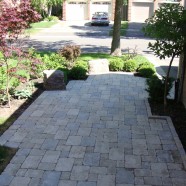 Established in 2009 by Richard Goring, UrbanScapes has, in its relatively short history, built a solid base of clients with a wide range of needs. From the design and shaping of elaborate residential gardens to maintaining the grounds of sprawling downtown condominium complexes, we meet our clients' needs in a timely, professional, and courteous manner.
Richard Goring
An award-winning landscaper, Richard Goring brings to his work an education in horticulture as well as experience with a variety of landscaping firms – including large, established companies with high-end clients. With nearly 2 decades of working to build, enhance, and maintain the sites of a broad spectrum of clients, Richard has firsthand experience and knowledge of which approaches and practices will best suit each client and each site. It is this experience that is the basis of the quality of UrbanScapes' work.
Why UrbanScapes Stands Out
UrbanScapes' staff is highly trained, with post-secondary horticultural education or industry-related certifications.
At UrbanScapes, care of the site throughout the working process is paramount. We invest time and care to ensure that a site is never left in disorder – no matter what stage the job is at.
UrbanScapes is fully insured.